Our Impact
Creating an equitable society, Improving government service delivery, Enhancing community assets
Shifting Mindsets and Attitudes
Empowering Elected Women Leaders
Assessing the ability of elected women representatives to question and defy entrenched social norms, transform gender relations, demand accountability and ensure inclusive development within their constituencies.
These learnings from the ground, which are a blend of quantitative and qualitative data, offer a rich narrative of change and challenges. The approach ensures that the focus stays on mutual learning and reflection processes that feed into strengthening the strategies of THP India. At the same time, evidence generated informs our advocacy effort thus creating a space for new knowledge building.
---
Our Impact has been Two-Fold
IMPACT 01

Elected Women Representatives Evolve as Individual Leaders
The Composite Capacity Index helps us understand the enhancement of the overall capacities of the Elected Women Representatives that are trained by The Hunger Project through the five years.
What We Measure
Enhanced confidence ('I cannot' to 'We can')

Improved understanding of women's right to voice and agency

Expansive knowledge of local governance systems and the importance of participation

Asserting and leveraging their position in the office to ensure development for all
---
IMPACT 02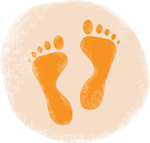 Local Development footprint of an Elected Woman Representative
We take a look at the overall impact an Elected Women Representative has on her respective locale and the overall progress she brings to it is as measured below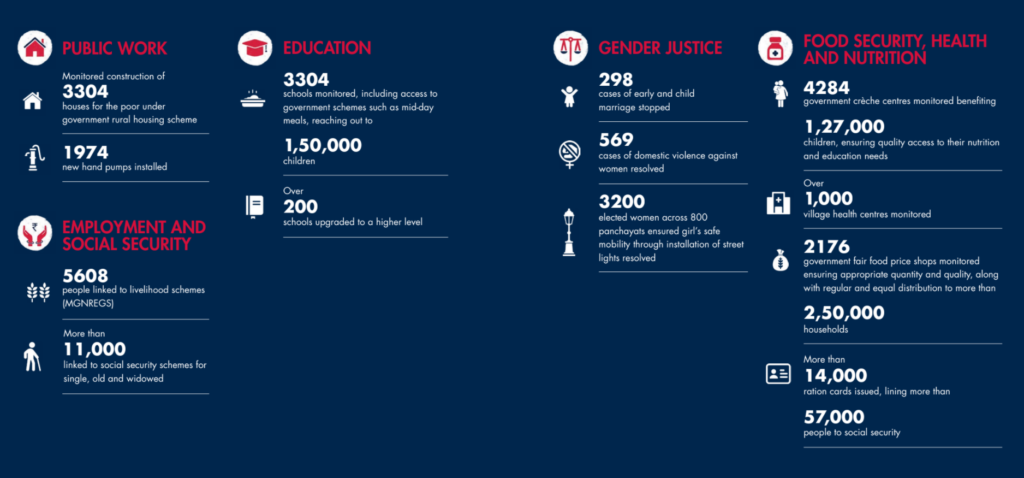 ---
Case Studies
Portraits of Elected Women Representative in Gram Panchayats
Jahan Aara Khatoon

Ward Member, Lakshmipur Dholbajwa Panchayat, West Champaran District, Bihar.

"I could barely study because of poverty. But I am determined to not let this factor affect my work in the panchayat." Jahan Aara Khatoon is more determined than ever to make a difference in her community. An elected ward member of the, she has focused her energies on ensuring improved access to education in the village. She has felt the repercussion of lack of education in her life and she does not want the same for the girls in her village. Building a Govt. primary school has been her number one priority. After 8 months of sustained efforts and meetings with the block officials, she constituted the School Education Committee (SEC). Under able chairmanship, the SEC has utilised the dedicated funds to carry out the repair work and general upkeep of the school building. She has a wandering gaze, paying attention to everything, from the affairs of the school administration to the needs and concerns of the poor and most marginalised, to keeping a tab on all the government schemes and access to them in a fair and functional manner. For instance, in 2017 when she learnt about the kind of jobs that fall under MGNREGA, Jaha Aara proposed the cleaning of a 3200 feet water body. The proposal with a tune of INR. 2,30,000 was sanctioned. It gave employment to a total of 180 wage labourers, receiving INR 177 per day for 20 days of work. Jahan Aara has proved her mettle and managed to establish herself as a role model for other women in the community. She attributes her sense of confidence and morale to the several training workshops organised by The Hunger Project India.

Lakshmi

President, Pura Grama Panchayat, Chickballapura District, Karnataka.

"I am happy to have found a platform to resolve such major issues which the men couldn't."Pura Grama Panchayat comes under Chickballapura assembly constituency, the issue of Bagar Hukum applications have remained unresolved for over many years. The issue was taken up at SUGRAMA and I found that many of the GPs also have the same issue. The issue was taken to the MLA and the issue is being considered for immediate action. This wouldn't have been possible if I had no information and guidance of SUGRAMA and ASEDA. I am happy to have found a platform to resolve such major issues which the men couldn't.' Bagar Hukum cultivators are farmers with no formal and documented ownership rights to government land they have been cultivating for decades. Lakshmi is doing everything in her power to ensure these people get their right to land.

Ahilya Bai

President, Barcheka Panchayat, Katni District, Madhya Pradesh.

"It was possible only after other elected women representatives came together as a group."'Getting administration to remove illegal alcohol vendors from 4 Panchayats in our block was not easy. It was possible only after other elected women representatives came together as a group. This is what collective strength can achieve.' Excessive consumption and sale of illicit liquor have been a pressing problem across Panchayats. Many of the consumers are daily wage earners who end up spending their day's earning on liquor while the women struggle to maintain households. In other cases, it has resulted in incidents of domestic violence. Further still, it has contributed to creating an unsafe public space in the village. To see Ahilya successfully mobilise the Jagrati federation women is evident of how THP India's programme strategy has enabled a safe space that provides elected women representatives with an avenue for co-learning, co-sharing, and coalition-building.

Beena Bairwa

President, Lalwadi Panchayat, Tonk District, Rajasthan

"I envision annihilation of caste, and freedom from caste violence"'I envision annihilation of caste, and freedom from caste violence that has afflicted many in my community, and that my panchayat blossoms like a lotus flower.' Beena won by 450 votes in the 2015 Panhayati Raj elections and she points out how critical this win is especially when this is the first SC seat introduced in the last 25 years. She hopes that through her work she will be able to redress the wrongs being committed against the SC community in the name of caste untouchability. She attributes her understanding of gender and social equality to the THP India training workshops.

Kanakalata Patra

Ward member, Tilokuti GP, Mayurbhanj District, Odisha

"In the few months that I have been a village council member, I have already managed a lot. That is how I got information about how the political system works"'In the few months that I have been a village council member, I have already managed a lot. That is how I got information about how the political system works – something I did not know about beforehand. I also know now how I can claim government regulations. I helped four elderly people in my village to apply for an old-age pension, and I succeeded. In the coming years, I want to provide 50 households with potable water. And build good roads that connect surrounding villages. But I also want to arrange social security for other unmarried women in my village. Think of arranging food stamps or applying for a pension for them. One of my fellow villagers also has tuberculosis: it wants to help get the right medical treatment and also provide a good pension.' She is 45 years old but her determined spirit ensures that no one is left behind in her Panchayat. She is also working with some families from Kolho a tribe who have been unable to avail any immunisation or education services for their children. She is continuously motivating and holding conversations with these families to make them understand why education is essential.

Mamta Selal

President, Sela Panchayat, Pithoragarh District, Uttarakhand

"To be able to develop work plans was a huge boost for me. I understand the power of this position and the responsibilities that come with it."'When I decided to contest the Panchayat election for the position of the president many people told me that I wasn't capable enough to fight elections, I have no understanding of the process. This was not seen as a woman's job. But I did not give up. I mobilised many women in the community who supported me through the campaign and in the end, my self-confidence secured me a win. I am grateful to Arpan and the Hunger Project India for their capacity building initiatives and that have continually enhanced my skills and ability to lead as an elected representative. The new information and understanding of daily workings have helped me build a strong position at the block level and with other official authorities. To be able to develop work plans was a huge boost for me. I understand the power of this position and the responsibilities that come with it.'