WHAT WE DO
Strengthening women's political leadership
Enabling women leaders to effectively discharge their duties as elected women representatives in their constituencies, practice good governance, and advocate for social and gender justice.
Our interventions aim to comprehensively expand the ability of elected women representatives to exercise their leadership for democratic development of their Panchayats, ensuring basic human rights for all. THP India strongly recognises that women's active participation in the political processes has been a powerful way to articulate their rights as citizens. The focus in on helping them address the patriarchal ideologies that perpetuate gender discrimination on the one hand, and seek to create equitable access to services by superior utilization of resources and enforcement of a more accountable, transparent and responsive administration.
Our Key Focus Areas
Strengthening Women's Leadership

Bolstering the political participation of elected women representatives by strengthening their leadership capacities

Accelerating Adolescent Girls' Empowerment

Create critical support networks for adolescent girls and facilitate an inter-generational dialogue

LOGIN Partnerships

Collaborations enhancing women's political agency and leadership capacities to redefine the local development narrative
Core programme strategy
Strengthening Women's Leadership
Our core programme strategy clearly reflects its mandate of bolstering the political participation of elected women representatives by strengthening their leadership capacities and advocating for an enabling environment within which they are able to make informed decisions in their tenure.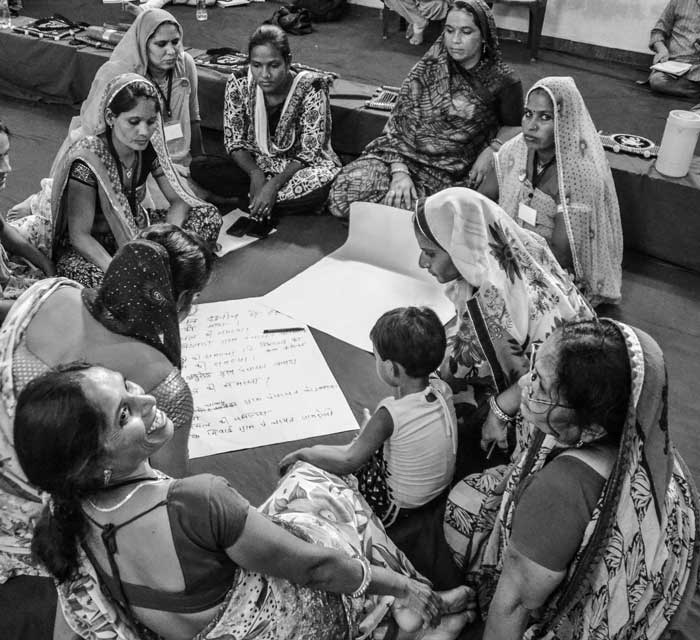 Strong Leaders

Building leadership of elected women representatives in Panchayats so that they are empowered as public office holders.

Build Knowledge

Strengthening the capacity of elected women representatives to mobilise communities to raise awareness and access their rights and entitlement.

Conducive Environment

Through multi-stakeholder engagement elected women leaders can effectively exercise their role and influence policy outcomes on issues pertaining to local governance, de-centralisation and women's participation in local democracy. Through critical initiatives such as federation building and jagruk manch platform, a safe space is created for co-learning, co-sharing, coalition-building, and collective action.

Building Dialogue

Advocating for a socially just and gender responsive dialogue on promoting and supporting women's political empowerment by forging alliances with like-minded organisations, civil society networks, and engaging with the media.
Empowering Adolescent Girls
Ending Child Marriage
The overall programme is embedded in the governance framework.
It is directed towards – recognising rights of adolescent girls, guaranteeing gender justice, changing attitudes of all stakeholders, and ensuring an enabling environment for girls to exercise their voice and agency in making informed decisions about their lives. Together, elected women leaders and adolescent girls are mobilised and their capacities are built in accessing rights and entitlements in the domain of health, education, social protection, legal remedies, livelihoods and skill building. The intervention, in other words, enables adolescent girls, in partnership with elected women representatives, to engage as active citizens.
In 2015, THP India embarked upon a small-scale but critical intervention with regards to empowering adolescent girls. It stemmed out of a constructive dialogue and partnership with the American Jewish World Service (AJWS). The spotlight was put on the needs and challenges faced by adolescent girls in Rajasthan and Karnataka. Subsequently, the programme was extended to Bihar with support from the United Nations Population Fund (UNFPA).

The strategy designed situates the specific interventions within THP India's core local governance framework, which is to build leadership and capacity of the Elected Women Representatives. The workshops aim to develop a nuanced understanding of the distinct needs of adolescent girls, especially looking at the harmful practice of child marriage.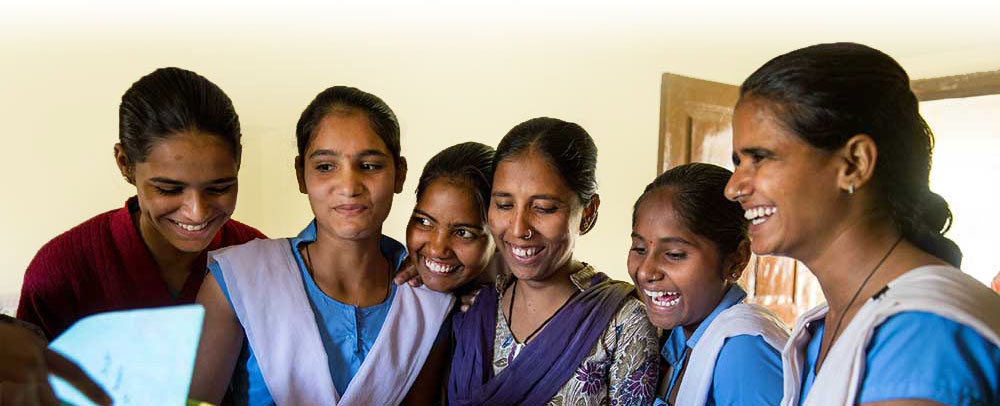 Regional Outreach
LOGIN Partnerships
THP India is a member of the Local Governance Initiative and Network (LOGIN), a multi-stakeholder network facilitating knowledge exchange and peer learning on issues related to local governance and decentralisation. As part of this initiative, we have been collaborating with like-minded organisations in the region thus adding a new impetus to our own endeavour to enhance women's political agency and leadership capacities in redefining local development narrative.

Since 2015, THP India and Bhutan Network for Empowering Women (BNEW) have been in a peer learning partnership, whereby, BNEW has adapted THP India's leadership and capacity development programme to its country context.
159

Elected Women Representatives trained

9

Enumerators trained on baseline survey tool

50

Journalists engaged through on Gender Sensitive Reporting

Partnerships

Strategic partnerships within Bhutan for sustained engagement